Audio Transfer to CD
Do you have radio programs and recorded family moments on old 5/16 inch (1/4 inch). These recordings are priceless and should be preserved in a format that is stable and useable. Our professional audio transfer to cd services can convert your 2, 4 & 8 track audio tapes, Vinyl LPs, Mini/Micro & Cassettes onto CD or DVD-R.

We will take your old cassette or reel-to-reel tapes and make a clean sounding CD or MP3 without TAPE NOISE! Our audio transfer to cd services include a restoration process that removes a good deal of the degradations of age, preserving a recording that sounds as if it was recorded yesterday! All original tapes/reels tracks have enhanced quality, the quality enhancements of our audio transfer to CD services include:
Background noise cancellation;
Pop/Click/Hiss cancellation;
Enriched high frequency components.
After the quality restoration during our audio transfer to CD your CDs or MP3 files will be like new and better than the originals!!
We offer a variety of media conversion, restoration, and duplication services for audio formats. With each audio trasfer to CD you receive a protective jewelcase and full-color label printed directly to your DVD or CD. All audio transfer to CD work is done in-house, with respect for your source material. Have a tight deadline, discuss it with us, rush orders are an option! We get your audio transfer to CDs done right, done fast, and back to you!
Do you have:
Music Collection
Audio Learning Tapes
Casette Audio Books
Call or e-mail to discuss your project or to receive a no-obligation quote for an audio transfer to CD now!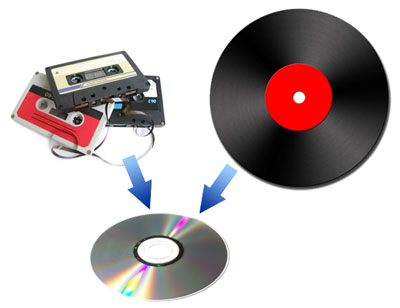 Audio Transfer to CD
We use Taiyo Yuden DVD+R/CD-R, these discs are the best on the market.
Price List
Audio Tapes or LPs Transferred to CD-R
Records
Includes Track Separation/Case with Label
$15.00
Cassete
Includes Track Separation/Case with Label
$15.00
*Other format services include MP3s, Beta Tapes, Vinyl Records - you name it, we can do it.