Copy VHS to DVD
Why Copy VHS to DVD
You think you're fine with those old tapes.
Think once more!
Everybody knows that VHS tapes lose their quality by simply lying peacefully on a shelf. Each time a cassette is played, it's being rubbed by the VCR head. This nasty head is erasing the content of the tapes slowly. If you happened to have lost your tape in an old VCR player, no surprises you hate VHS and would benefit from DVD transfer services. One more thing to think about: all the trends show that in 15-20 years nobody will watch videos using VCR. Actually, few of them will know anything about them.
Reasons to Copy VHS to DVD:
Convert VHS to DVD for modern standard digital technology
Extended life (discs are supposed to last even up to 100 years if kept and handled properly)
DVD does not lose its quality no matter how many times it's played.
DVD does not lose quality if it's not watched for years
Transfer to DVD for a convenient format for viewing
VHS tapes disadvantages:
Analog technology from the last century
Preserve quality
Loses quality even if it's not watched for years.
Avoid VCR damage to tapes
We offer a variety of media conversion and duplication services including VHS conversion services, camcorder tape to DVD, 8mm film to DVD, Hi-8 to DVD, Mini-DV and PowerPoint to DVD. With each trasfer you receive a protective jewelcase and full-color label printed directly to your DVD or CD. We digitize in-house, with respect for your source material. Have a tight deadline, discuss it with us, rush orders are an option! We get your video transfers done right, done fast, and back to you!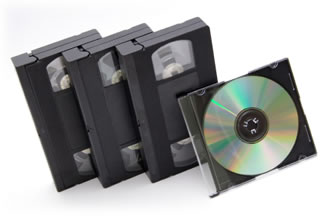 Contact: copycats4u@yahoo.com
Tom
(520) 955-3545
Call Now To Discuss Your Precious Project!
Copy VHS to DVD
We use Taiyo Yuden DVD+R/CD-R, when we copy VHS to DVD, these disks are the best on the market.
Price List
Copy VHS to DVD + R DVD Standard or Dual Layer
Per HR
VHS to DVD
Includes Basic Title and Editing/Label/Case
$15.00
8mm Video
Includes Basic Title and Editing/Label/Case
$20.00
Hi-8
Includes Basic Title and Editing/Label/Case
$20.00
Mini-DV
Includes Basic Title and Editing/Label/Case
$20.00
Extra Copy
Includes Basic Title and Editing/Label/Case
$10.00