Copy Videos with Professional Video Editing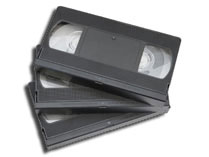 We are proud to be your source for professional film transfer and video conversion. We're happy to offer you the opportunity to relive your memories. With our film and video transfer process, we can copy videos from old 8mm film, super 8 film, 16mm film, camcorder tapes, and VHS into a convenient DVD that will play in your home DVD player. Copy videos with confidence with us...
It's SAFE...
We copy videos without damage to your 8mm film, super8 film, 16mm film, camcorder tapes, VHS tapes, 35mm negatives, 35mm slides, or photos in any way. The safety of your home movies is our priority!
It's QUALITY...
Our staff of editors and technicians have the experience to produce world renowned quality that we stand behind. We aim to make you as happy as our previous customers, and settle for no less! When you copy videos there is no better choice than us!
It's EASY to Copy Videos...
We'll walk you through the vhs to dvd and the film to dvd ordering processes. You can send in as many film reels, slides, and tapes as you'd like! When you want to copy videos we do not limit your options!
We offer a variety of media conversion and duplication services to copy videos including VHS tape to DVD, camcorder tape to DVD, 8mm film to DVD, Hi-8 to DVD, Mini-DV and PowerPoint to DVD. When you copy videos you recieve a protective jewel case and full-color label printed directly to your DVD or CD. All work is done in-house, with respect for your source material. Have a tight deadline, discuss it with us, rush orders are an option! We get your video transfers done right, done fast, and back to you!
Reduce the clutter and storage hassles of a large collection of outdated VHS tapes when you copy videos.
Do you have:
Movie Collection
Home Videos
Training Videos
We can copy videos to VHS so they can be played on your modern DVD players.
Call for FREE no-obligation quote now!
We Copy Videos to DVD
We use Taiyo Yuden DVD+R/CD-R, these disks are the best  on the market.
Price List
Copy Videos to DVD+R DVD Standard or Dual Layer

Per HR
VHS
Includes Basic Title and Editing/Label/Case
$15.00
8mm Video
Includes Basic Title and Editing/Label/Case
$20.00
Hi-8
Includes Basic Title and Editing/Label/Case
$20.00
Mini-DV
Includes Basic Title and Editing/Label/Case
$20.00
Extra Copy
Includes Basic Title and Editing/Label/Case
$10.00